<! -- MAIN BODY OF MATERIAL STARTS HERE! -->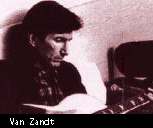 Townes Van Zandt Dies
by Marcus Errico
January 2, 1997, 1:45 p.m. PT
Townes Van Zandt--the legendary folk hermit whose somber cult songs were turned into country hits by Willie Nelson and Emmylou Harris--has died of an apparent heart attack. He was 52.
Van Zandt had returned to his Tennessee home last week after undergoing hip surgery, a spokeswoman for his record label said. Family and friends were gathered at his home Wednesday evening, when he collapsed and died suddenly.
He developed a hard-core cult following while playing folk clubs and gin joints throughout his native Texas. He also developed a reputation as a hard-living man, which he often played up in song. He cut his first album, First Album, in 1968, and followed with a series of releases on small labels.
But Van Zandt's greatest success came as a songwriter. Emmylou Harris had a minor hit with "Pancho and Lefty" in 1977; six years later, Merle Haggard and Willie Nelson turned the song into a chart-topping duet. Another duet, Don Williams and Harris' version of "If I Needed You," topped the country charts in 1981.
After a hiatus from recording, Van Zandt returned in 1987 with At My Window--an album that scored him a new generation of folkie fans. The Cowboy Junkies were so impressed by Van Zandt that they asked him to tour with them in 1990 and recorded two of his songs for Black Eyed Man in 1992.
His final recordings, Road Songs and No Deeper Blue, were issued by Sugar Hill in 1994.
Fans have already begun mourning at the unofficial Van Zandt Web site. "Thanks Townes, for all the great songs, bad puns, tall tales and corny jokes. You were such a kind and gentle person," wrote one fan. Another quoted lyrics, "'On that fateful morning when I close my eyes and fly my body home/Well, I don't want my friends to cry no tears about me./I'll be bathing in the glory of the throne,'" adding, "Sorry, but I'm crying anyway."
And Van Zandt followers can point their browsers to Austin radio station KGSR and listen to special broadcast in Real Audio beginning at 5 p.m. PT tonight.

Copyright © 1997 E! Online. All rights reserved.
<! -- MAIN BODY OF MATERIAL ENDS HERE! -->