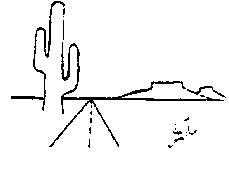 End of the
Road
By Brad Tyer
Jan. 13, 1997
It surprised no one who knew him, or even anyone who knew much of him, to learn that Townes Van Zandt - a man who by all accounts lived the Troubled Troubadour Genius myth to the verge of cliche - had died on New Year's Day at age 52. As Keith Case, Van Zandt booking agent in the early 1970s and again for the past ten years, noted, "Townes had been getting especially frail for the past couple of years." And another longtime friend, Galveston's Rex Bell noted that the six-foot-two-inch Van Zandt weighed only 135 pounds in recent times.


The only real surprises were that Van Zandt's increasing frailty had carried him this far, and that his life, which he had lived largely out of a suitcase, had ended peacefully in his own bed. And perhaps there is some final irony in the fact that, having once dropped off the fourth floor of an apartment building unharmed, Van Zandt should have finally succumbed to complications resulting from a simple, stumbling fall.


According to the accounts patched together last week, here's what happened: Van Zandt had recently returned to Tennessee, his home base of the past decade, following another of the small European tours that had occupied much of his time for the last two and a half years. On a recording trip to a Memphis studio where he was cutting demos of new material, Van Zandt fell and, he thought, pulled a muscle in his back. Two weeks later in Nashville, friends coaxed an unhealed Van Zandt to a doctor, who discovered that the fall had in fact broken the songwriter's hip. The discovery led to a brief hospital stay and surgery to set the bone.


Van Zandt was released from the hospital at about 5 p.m. on January 1, whereupon he returned to his home in Smyrna, a small town just outside Nashvflle. There, in the presence of Jeanene - his ex-wife by legal convenience - their son Will and daughter Katie Bell, he fell asleep in his own bed. He died in his sleep around 10 p.m., reportedly of heart failure or a blood clot. At press time an autopsy was pending, but Van Zandt's friends in Houston and elsewhere aren't terribly concerned to see the results. They know, ultimately, what killed Townes Van Zandt. He lived too hard not to die. Contacted for comment each old friend echoed some variation of the words spoken by Linda Lowe, a Houston singer/songwriter and longtime friend of Van Zandt's: "Everyone knows he's been dying for 20 years."


In the pages of For the Sake of the Song, a limited edition 1977 book of Townes Van Zandt's lyrics, the preeminent songwriter of his generation recalled his days at the University of Colorado, when he was in the habit of locking himself in his apartment for a week at a time, "taking my phone off the hook, being drunk all the time, drinking Bali Hai wine, playing the guitar, listening to Lightnin' Hopkins and Hank Williams and early Bob Dylan Then I'd come out at the end of a week of this and throw a giant party. I lived on the fourth story of this apartment building, and at one point during one of those parties, I went out and sat on the edge of the balcony and started leaning backwards. I decided I was gonna lean over and just see what it felt like all the way up to when you lost control and were falling. I realized that to do it I'd have to fall. But I said I'm going to do it anyway. So I started leaning back really slow, and really paying attention I fell. Fell over backwards, and landed four stories down flat on my back. I remember the impact and exactly what it felt like and all the people screaming. I had a bottle of wine, and I stood up. Hadn't spilled any wine. Felt no ill effects whatsoever. Meanwhile all the people jammed onto the elevator, and when the doors opened, they knocked me over coming out. And it hurt more being knocked over than falling four stories."


It's one hell of a Van Zandt story - and one of many that were possibly apocryphal, just as likely true, and combined all the classic Van Zandt themes: solitude, alcohol, music and almost inhuman extremity in the name of finding out just what it - human extremity - actually feels like.


The story also illustrates a now-pointed Van Zandt truth, which is that he should, by all rights, have died a hundred times before this New Year's Day.


He lived hard, a lifelong alcoholic whose uncounted bouts with detox could not compete with his disease, or with the attacks of debilitating depression that seized him throughout his life, or with the idolatrous fans for whom no autograph could ever compare with the reflected glory of having tossed back a fifth or three with their hero.


He was born John Townes Van Zandt in Fort Worth on March 7, 1944, to a wealthy Texas family, and about his early days he's been quoted as saying that 'I lived in Fort Worth till I was eight; Midland till nine; Billings, Montana till 12; Chicago till 15; Minnesota till 17; then back to Chicago till 19; Houston till 21. And then I started traveling."


He never stopped. His move to Houston in the early '60s to begin a career in music was inspired, he said, by the success of Elvis. He became a fixture of the then-surging folk-coffeehouse scene, playing venerable and now defunct venues such as the Old Quarter (where he later recorded his 1977 album Live at the Old Quarter) and Sand Mountain.


Rex Bell, Van Zandt's friend of 30 years and an original co-owner of the Old Quarter, met Van Zandt on-stage at Sand Mountain. Bell remembers Van Zandt skirting the club's no alcohol policy by tying a jug of wine to a rope and dangling it out a nearby window. Van Zandt later recorded "Rex's Blues" for Bell. "It's not that flattering," Bell says of the song. "I didn't like it for many years. But he really pegged me. He was one of the greatest writers that ever lived, had more insight into life than anyone I ever knew. He's an irreplaceable figure."


Musically, Van Zandt provided the missing link between the bluesmen, such as Lightnin' Hopkins, who influenced him, and the generation of songwriters, including Lyle Lovett, Steve Earle, Nanci Griffith and David Rodriguez, who followed in Van Zandt's footsteps.


His career existed in a constant state of shambles. His early records were released on the tiny Poppy/Tomato label, and later efforts were released on Sugar Hill. His song rights were perpetually caught up in legal disputes, and his records were poorly distributed.


Emmylou Harris and the duet of Willie Nelson and Merle Haggard had hits with 'Pancho and Lefty,' perhaps Van Zandt's best known song, but his own albums sold marginally. A verse from 'Pancho and Lefty" shows how deft Van Zandt could be with his lyrics, and how the notion of leaving things behind life, family, opportunity was never far from his thoughts: "Living on the road my friend / Was gonna keep you free and clean. / Now you wear your skin like iron / Your breath's as hard as kerosene. You weren't your momma's only boy / But her favorite one it seems. / She began to cry when you said goodbye / And sank into your dreams."


Only in the past two years have his essential early works been re-issued. In 1994, he released what would be his last album, Road Songs, a collection of cover tunes, and No Deeper Blue, his first collection of new songs since 1987. Van Zandt was reportedly at work on a box set collection of his songs covered by artists including Nelson at the time of his death. It's typical of his career which followed a trajectory of critical acclaim, personal turmoil and commercial disappointment - that the project should remain unfinished.


Earlier this year Jeanene Van Zandt produced Around Townes, a CD of Van Zandt songs sung by Jonnell Moser that was aimed at re-introducing her ex-husband's songs to a wider audience. In the finer notes to that album, writing to Van Zandt, Jeanene remembered "waking one morning to find your writing pad on the coffee table. You were still asleep so I felt safe sneaking a peek. As I read the words to what later became 'A Song For,' I was brought to tears. Hell, I was bawling. It was so tragically beautiful. You came running from the bedroom and asked, "What's wrong babe?" I said Townes, this new song is so beautiful. It's bound to be my favorite. You replied. 'Song my ass, that's a suicide note.'"


Later Van Zandt added a verse, and the note became a song. But as with much of his work, it was often difficult to tell where the suicide note ended and the song began.